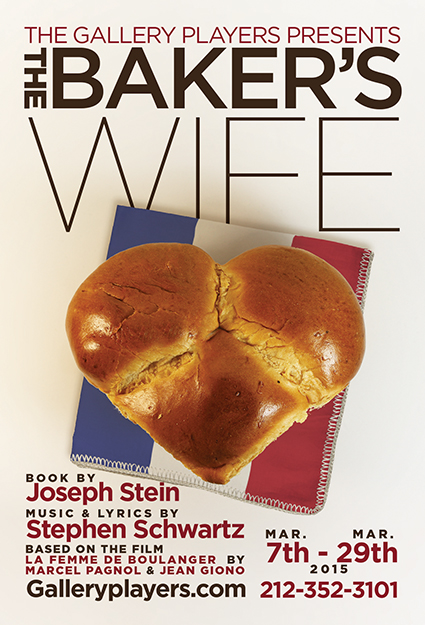 Fans of musical theater history have the rare chance to see
The Baker's Wife
, the troubled 1976 musical that played a pre-Broadway tour but never made it to Broadway. I figured there was a reason this musical didn't succeed, but The Gallery Players' production, directed by Barrie Gelles, makes a pretty strong case that it just didn't get its due.
Maybe it's because I just finished my
Gilmore Girls
rewatch, but the small village in 1935 Provence, France where the play is set reminded me a bit of Stars Hollow, with everybody in everyone else's business and constantly bickering. When the baker dies, the village is tragically left without bread. But finally a new baker, Aimable (Charlie Owens) arrives with his young wife, Genevieve (Alyson Leigh Rosenfield). Everything is great for a while, until she runs off with the town Don Juan, Dominique (Jesse Manocherian).
If you've ever seen a Broadway leading lady in concert, you're probably familiar with the ballad "Meadowlark." The rest of Stephen Schwartz's score is just as lovely and is served well in the capable voices of this cast, especially the songs performed by Manocherian. When he opens his mouth to sing, it becomes immediately clear why he was cast, though he could use some more of that passion in the dialogue scenes. There's also a lot of unexpected humor in both the lyrics and the book by Joseph Stein, but that's not to say the book isn't without its problems--cliché dialogue and subplots about the villagers that are not as fully developed as the love triangle.
But these are issues with the musical itself, not the production. The Gallery Players always does a lot with a small theater's budget. Ryan Howell's set--separated into a cafe, the baker's home, and the rest of the town--is charming. The only time when budget is an issue is that nobody ever eats the bread (presumably so it can be reused). It just takes you out of the moment when everyone is going on and on about how happy they are to have warm, fresh bread without ever tasting it. Still, the show is going to make you crave carbs, so be sure you have some stocked at home for afterwards.